---
Vous devez vous identifier pour créer des messages et des sujets.
[ENG] Rules - Your Experiences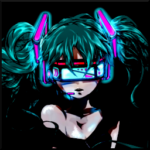 Anthony Knight
@anthony-knight
49 messages
The "Your experiences" section allows you to share your experiences with the members of the forum, whether to give a testimony or to ask for an opinion.
Each member is entitled to one topic per experience theme.
For example, a user will have the right to recount in one topic, a paralysis experienced, and in another topic, an experience in relation to a product related to the theme of the forum. However, it is forbidden to make two subjects to tell in them, two paralysis lived.
If you want to narrate several dreams or lived sleep paralysis, you will have to do so in the form of a dream diary.
THE DREAM JOURNAL:
To create your dream journal, you will only use the first post of your subject to write each of your dreams. The goal is to gather all the stories in one place and not on several pages of a topic.
You can write a description, but the story of each dream will be written by putting them under different "spoilers" so that each dream is well separated
.
WRITE YOUR DREAM JOURNAL:
1) After your introduction, click on the "spoiler" button. :

_______________________________________________
2) Some "tags" will appear :

_______________________________________________
3) You will then have to write between the two tags to write your story, so that it will be under spoiler :

_______________________________________________
4) With several spoilers, in order to separate each dream, here is the result :
When writing the text: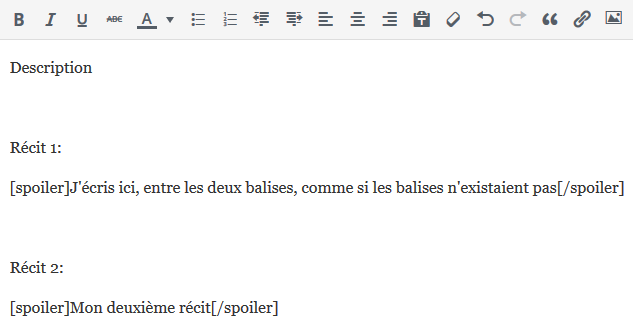 _______________________________________________
Once the text is written :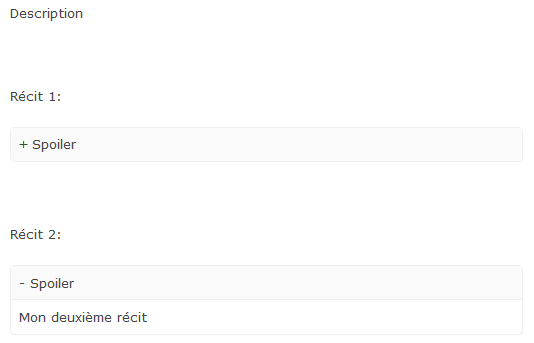 EDIT YOUR FIRST POST :
To edit your first post, you will need to press the button below :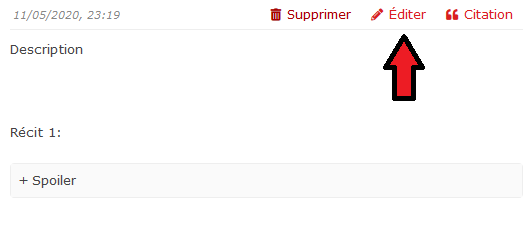 Once edited, do not hesitate to post a new reply this time (i.e. do not edit the first post but leave a new message) to prevent that you have added a new story in the first post, so that members can be aware of the new content.
Click for thumbs down.
0
Click for thumbs up.
0
Dernière édition le 09/07/2020, 01:44 par

Anthony Knight

·
#1
---
Retour à la page d'accueil