---

No inception ! It's rare ! lol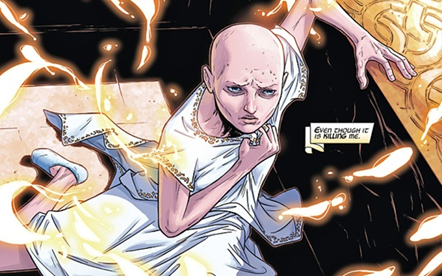 Jane Foster of Marvel Thor comics, new Mjorlnir owner with cancer.


Note: the position of the bed in relation to the window had changed the day before and I knew by instinct that there was a good chance that I would become paralysed during the night or in the following days…



DREAM :
The dream begins when I am on the ground floor of a large house (The dream begins when I am on the ground floor of a large house (perhaps similar to previous dreams taking place in a mansion). I was with friends: Noah (this one often squats my dreams lol), his wife and another person that I don't think I've seen the face, but not having an important role (simple observer ?).
While we were in the living room, I walked to the kitchen where the door is closed to look for something to eat for sure. When I get to the kitchen, I sense something is wrong, as if there is danger. The atmosphere was getting heavy and I understood that I had to leave.
Back in the living room, I warn my friends not to go into the kitchen. I started talking to Noah (since he knows about my sleep paralysis in real life) about what was going to happen: I told him that I was at risk of sleep paralysis and that in the kitchen there was potential danger. I also told him to wake me up, hoping that in real life my brother next door could hear me.
Suddenly, the paralysis set in as I spoke with NOAH. It became more difficult to speak and my head was so heavy that I had to put it on the table we were sitting on, and then I started drooling. NOAH laughing at me drooling, I tell him that this is also part of my paralysis LOL
All of a sudden, the kitchen door opened and a woman walked out. It was a woman from Mauritius, whose face I couldn't see. She walked to another room, walking like a zombie who' s limping, but quickly. On her way, she started to change her appearance to take the appearance of a former French teacher. Another story of Faceless Man ! LOL
Not wanting to miss this opportunity, I began to intercept her (I was no longer paralyzed at that moment), grabbing her by the arm and cornering her against the wall. I then asked The Faceless Man (or woman XD ) to speak. Not answering and acting as if nothing had happened, I grabbed her by the jaw, to try to make her speak by force. But seeing that she didn't move, I moved her arms to see if she was doing anything.
Remaining without doing anything, I decided to take her both hands, even if passing my fingers through her right hand was a bit difficult because it was a bit stiff. To troll her a little bit, I started to make movements from left to right, to make it look like we were dancing together.
Not reacting at first, it was at this point that the Mind Flayer changed his face again to take on the appearance of a bald woman, with a slightly dark look and dark circles. I could even say that this was exactly what Jane Foster looked like (see the picture at the beginning of the chapter). Jane started dancing with me, smiling, following my initial movements. Suddenly, after a slightly machiavellian and playful smile, she began to bring her face closer to devour me like a monster. By reflex, I held her by her hands to avoid her approaching her face, but I think she just wanted to troll me: if she really wanted to attack me, she could have done it very easily already.
Because of his "attack" to tease me, I would fall backwards and wake up in real life.




DREAM ANALYSIS :
Dancing with the Mind Flayer ! And then we troll each other ! We've reached a stage… Who does better in his paralysis, bitch ? XD
This is the first clear appearance of the Mind Flayer, even though there was no communication.
It is noticeable that the Mind Flayer is not receptive when I am aggressive, but by being more sympathetic, I have a return. We'll have to avoid being too mean in the future.
However, there's no interpretation to be drawn from this dream, except that I'm really too strong ! LOL
>>> Tag : Clearer appearance you die, troll, NOAH, drooling, fictional character, mansion, Faceless Men