---

Inception !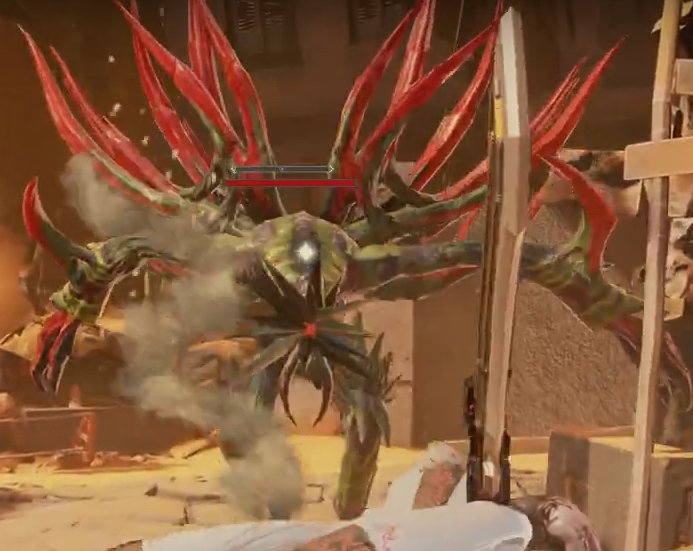 Elite Parched Executioner, an enemy from Code Vein video game


CONTEXT :
Lately, in my project to create a website on sleep paralysis, I often saw people talking about having lucid dreams in normal dreams. Thanks to a member of a Facebook group on paralysis, I discovered a banner to facilitate lucid dreams. At the same time I was talking about lucid dreams to my friend Noah. So I thought that maybe I should try it again, without being too rude this time !
In order to start training before the blindfold arrived, I used the technique of rehearsing or saying to myself several times before going to sleep: "I want to remember my dreams and make them lucid. ». I mentally specify that my objective is not to go and gently annoy Flageounet, but that if he wanted to visit me, he was welcome.
My objective this time was just to test my ability to have lucid dreams, without necessarily involving the Mind Flayer.
Before I went to bed, I'd spent quite a few hours geeking on the video game Code Vein with a mate. I also took stock of myself, noticing that compared to before, I was moving forward in my everyday life. It's probably because of the anime My teen romantic comedy is wrong as I expected, whose hero looks like me in a lot of ways.



DREAM 1 :
The dream begins in a cave rather lit up with blue. I'm in the middle of what could be a video game where I'm the hero: I'm like in turn-based RPGs, where you can move on squares, like Dofus. The arena is a set of squares forming a big 8, like in board games.
I hear Noah's voice, coming out of nowhere, asking me a point about the enemies in this arena. And I say to him the following:
"There is on the one hand my unconscious (in the form of a pawn in the arena) who wants me to publish on the net pictures of me a little bit daring, and on the other hand (represented by another pawn), the latter doesn't want to (will really have to explain to me what I have with erotic dreams at the moment, knowing that Mister the judge is rather calm these days ! Because I don't want to publish pictures of me on the net, damn it ! XD ). »
There were two other pawns, but I don't remember their roles. All I remember is that I was running away from all the pawns on the field.
When I said the word "run," two things happened at once:
I had just realized that I was dreaming
A voice reminded me that I had spent a large part of my life running away
Once these two events were over, I felt ready to face the pawns I was running away from. It was then that one of these counters, in the form of a white shadow of an "Elite Parched Executioner" (an enemy of the game Code Vein, as in the photo above), was coming towards me, as in Code Vein, to attack me. I would then run towards it, and just as we were getting close, there was an animation, like "a wild Pokemon appears", to say that the fight was about to begin.
The dream stops there, with so many references to video games. XD




DREAM 2 :
I find myself in bed with the midday sun as in real life (in confinement, I go to bed late and get up late), lying on my back and conscious of being under sleep paralysis because I couldn't move.
Recognizing this usual situation and not seeing anything happening, I decide to call by his nickname, the handsome that everyone loves: "Flageounet" !
I see like disturbances in my waking dream, with roots in the form of shadows that appeared on the ceiling for a fraction of a second, as if the Mind Flayer had tried to appear, but did not succeed… Wait ! Mind Flayer, roots… Hey ! That's season two of Stranger Things ! That means I've got an unconscious making pop culture references ! So cool ! X'D
Right after I failed to invoke Flageounet, despite his ability to be good at pop culture references, I felt I was badly positioned on my bed, especially at the neck. Very unpleasant, I try to move, but I can't. I can't move. So I close my eyes and concentrate on my breath to stay calm and then try to move again: I wake up just as I was about to try to move again in my dream.




BACK TO REALITY :
When I woke up, I was exactly the same environment as in my dream. I was indeed badly positioned on my pillow as in my dream, with my neck which took a lot at that time (moreover, the same evening when I write this story, I feel that my neck is still not recovered).
Once I was in the right position, I went back to sleep, not remembering the next dreams I was going to have.




DREAM ANALYSIS :
I don't see much to say in this dream. I would say that it's just a normal dream a bit fantasy, where the objective, as scientists say, was to sort out my memories of the day before (between Code Vein, my point about myself, my activities on lucid dreams).
If we forget the weird part with the daring pictures (which I now think is due to the fact that it's precisely because Mr the Judge is quiet at the moment to let me work on my site, that I ended up having those weird things), for a new attempt at lucid dreaming, it's pretty good, I'd say !
Note that this is the first time that a shadow is white and not black in my dreams.
We also note that my lovely Flageounet is probably as strong as I am on pop culture references, or even stronger, considering that he has easier access to my memory than I do ! LOL
>>> Tag : Noah, connection with thoughts before sleep, erotic dreaming