---

Dream inception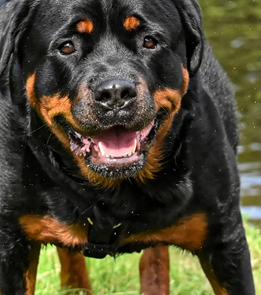 DREAM 1 :
Immersed in the world of Borderland (probably because I had seen a video from Laink & Terracid on this game the day before), The dream starts while I'm exploring as if I were in the game, when all of a sudden, a quest appears on… My screen… or rather my vision for the moment: a quest about a hunting dog.
I decide to go in the direction of the hound, the objective being to approach him. Once approached, the Rottweiler is not aggressive and I hold out my hand to stroke his head.
This one then becomes my pet (in the video of Laink & Terracid, you could have a pet by stroking it).




DREAM 2 :
All of a sudden, I find myself lying in my usual bed on my left side (yes, you guessed it, the paralysis starts at that moment). I feel that the dog I had adopted has climbed on top of me to lick his right ear.
Finding it nice that he shows me his affection, I try to reach out my arm to catch him, although I can't see him (my head is always turned to the left due to my position), but I can't catch him because I'm paralyzed.
It took me long seconds to realize that I had sleep paralysis (because I hadn't had any for a long time).
I then tried to get up with improvised breathing exercises and trying to lift my body with my arms. No sooner was I able to get up with both arms than I fell back to my bed. After a while, waking up seemed a very long thing to do, when suddenly I thought that my brother, GB., sleeping in a mattress next to me in real life could wake me up.
I then tried to call him by saying his name, but my jaw was not moving properly. So I just shouted so that in real life he would understand that I was having a nightmare and that I had to wake up.
The dream ends like this…




BACK TO REALITY :
I realized that this is the second dream in a row where I didn't have the reflex to try to communicate with my "paralysis". But I think that I didn't try to communicate because of the dog, since theoretically, a dog doesn't understand when you speak to him in French like a human.
On the other hand, my brother didn't hear me in real life, which means I didn't scream at all in real life.




DREAM ANALYSIS :
At that time, I was a bit in need of affection: I often wanted to receive hugs from my brother for example.
To give a bit more details on the context, I like dogs that look mean, but are actually too nice and playful with their master, like for example Bulldogs. I had to associate that with the Rottweiler in my dream, which also looks aggressive.
The dog of my dream, being a Rottweiler, simply represented the need for affection.
>>> Tag : need of affection